2018 Assessment Mini Conference
The intersection between assessment & marketing
Register for Conference here by July 23rd, 2018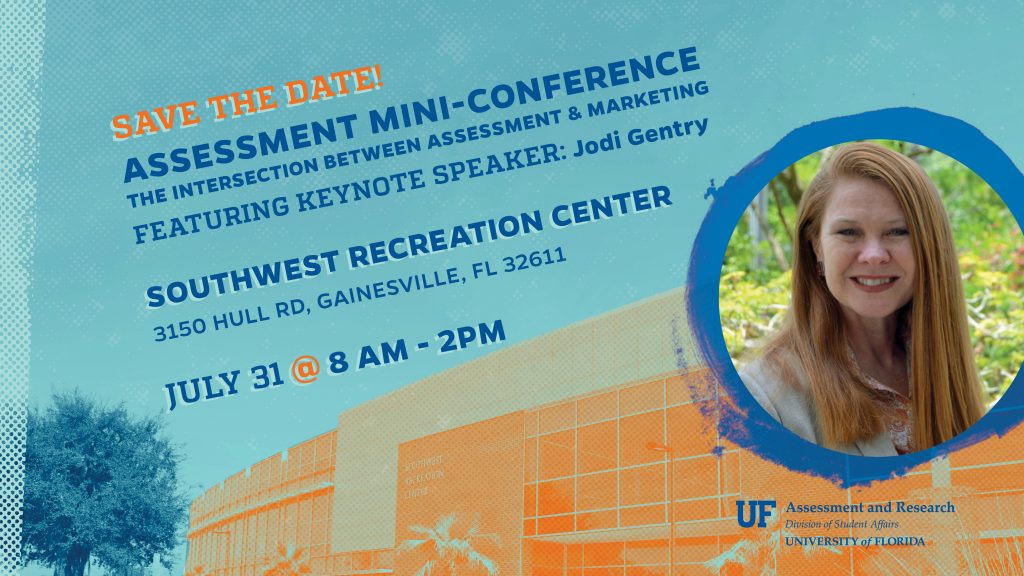 Date: July 31, 2018
Location: SW Rec Center
Time: 8:00am – 2:00pm
Building upon last year's Assessment in Action! Mini Conference, the Office of Assessment and Research is collaborating with Marketing & Strategic Communications to coordinate a summer mini conference focusing on the intersection between assessment & marketing.
Conference Presentations
Breakout Session 1:
Message Testing on a College Campus presented Joel Axon, Marketing & Communications Specialist, GatorWell Health Promotion Services
Market Analysis 101 presented by Dr. Shaun Boren, Director, Student Affairs Office of Assessment and Research; Dr. Mike Mitrook, Assistant Director for Marketing and Assessment, Department of Recreational Sports
Breakout Session 2:
From Networks to Communities: Shifting Social Media for College Students presented by Dan Ypsilanti, Graphic Designer, Counseling and Wellness Center
Why is Business Booming at the DRC? presented by Beth Roland, Assistant Director and Learning Specialist, Disability Resource Center; Amanda Pillar, Communications Specialist, Student Affairs Marketing & Communications
Breakout Session 3
Stranger Things: Journey Into the Upside-Down of Residential Curriculum presented by Jacob McAbee, Area Coordinator: Lakeside & Spring Complexes, Housing and Residence Education
To Influence is to Impact presented by Huzeyfe Cakmakci, Graduate Assistant, Student Affairs Office of Assessment and Research; Mickey Howard, Associate Director, Student Affairs Marketing & Communications
Lunch
Preeminence through People presented by Jodi Gentry, Vice President for Human Resources
Call for Program Proposals:
The conference planning committee is seeking proposals that cover a variety of topics related to assessment and/or marketing in Student Affairs. Presenters are asked to identify the intended audience for their session: Beginner or Intermediate. Ideal programs are those which include content that is applicable to various functional areas within Student Affairs. It is acceptable to discuss examples that are specific to a project, experience, or functional area. However, we are asking that the session highlights outcomes that are appropriate for a varied audience. Proposals are due on June 8, 2018 by 11:59 pm.
Click here to complete and submit your program proposal (currently closed).
Should you have any questions, you may contact Student Affairs Assessment and Research Assistant Director Jerri Berry (jerriannb@ufsa.ufl.edu).